Golf Star Luke Joins Budgen MG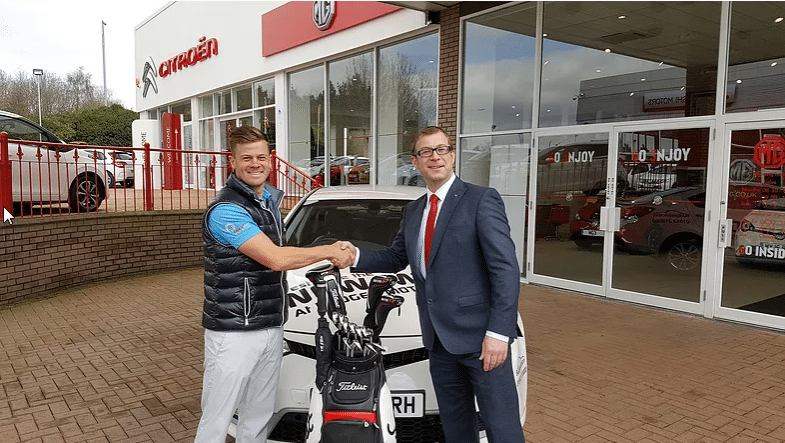 PGA Champion, Luke Towler, has been presented witha sleek top-of-the-range MG6 TL five-door sports hatchback courtesy of
Budgen Motors MG in Telford
. He'll use the car to travel to golf tournaments regionallyand around the country.
Luke took over the position of acting head professional at the Telford Hotel and Golf Resort around three years ago, running the day-to-day golf operations at the venue, and providing coaching to the venue's many visitors.
Luke represents the Telford Hotel and Golf Resort at local fixtures and plays in Pro-Am tournaments across Europe, around England and the whole of the UK.He's currently ranked second in the Midland PGA with 12 victories during 2015, and gained a Full Euro Pro Tour Card at the 2016 Qualifying School.
Luke's goal for this 2016 season is to gain qualification to the European Challenge Tour through finishing in the top five of the Euro Pro Tour order of merit. He says: "I'd like to thank Budgen Motors MG for providing me with the MG6 TL which is proving just perfect for the job of transporting me to Golf tournaments. It comes generously equipped and the boot is huge, amply big enough to accommodate a couple of sets of golf clubs.
He continues: "I often pick up customers to golf days and they seem to find the car comfortable as there's plenty of room inside. I get around 50mpg during motorway driving which is pretty good. The MG handles superbly and is really responsive to drive."
Budgen Motor Group managing director, James Martin comments: "We are delighted to be able to support Luke by providing him with transport. We understand that he is enjoying driving and using the MG6 TL which is easy to spot, emblazoned as it is with MG branding on white paint which really makes