DESIGN
LOAD CAPACITY OF UP TO 4.1 M³
Still available in two lengths: L1 &L2 versions (L1 available volume of up to 3.7 m3) and L2 size (up to 4.1 m3), Citroën Berlingo offers you an optimal loading area thanks to its smart access points: large sliding side doors and asymmetric rear doors (opening to 180°).
Even with the L2 version , 2 Euro-pallets can be easily placed in the loading space.
COMFORT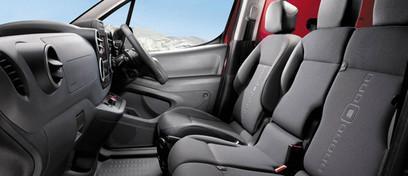 3 FRONT SEATS
With its 3 real seats, its many storage spaces and its excellent capacity, the Extenso cab is flexible as needed.
The fold-down side seat frees up a surprising amount of available length (up to 3 m for L1 and 3.25 m for L2 size) to load and transport the bulkiest of objects and accessories: rails, pipes, planks, battens and ladders.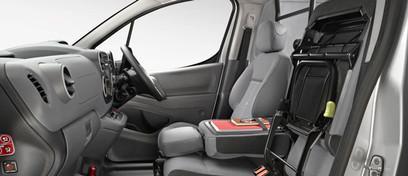 CINEMA POSITION
The side passenger seat can also be put in the cinema position: the seat folded up against the back for transporting high loads directly in the cab.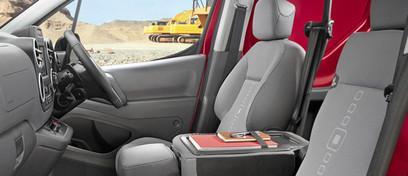 YOUR MOBILE DESK
The fold-down back of the central seat can be used as a mobile desk thanks to its writing panel.
Always a place to sign the contracts!
TECHNOLOGY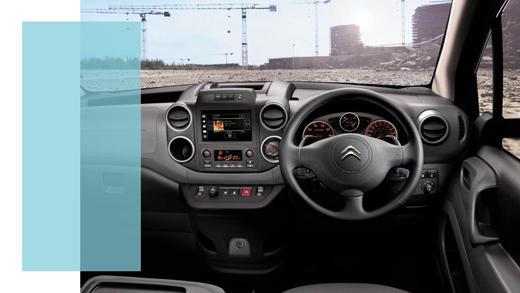 TOUCHSCREEN TABLET
Citroën Berlingo features a new 7" touchscreen tablet which lightens the dashboard and provides brand new services for a small utility van:
A new navigation touchscreen with a view of the map with 3D perspective, display of the speed limits and traffic conditions taken into account
Extended media features (radio, audio "streaming", jukebox and connectivity for mobile devices);
Phone (voice recognition, hands-free function via a Bluetooth connection, access to the directory, two-call management)
Thanks to Mirror Screen technology, the new 7" touchscreen can be used for your smartphone applications and to replicate third-party applications such as Coyote, web radios, etc.
ENGINES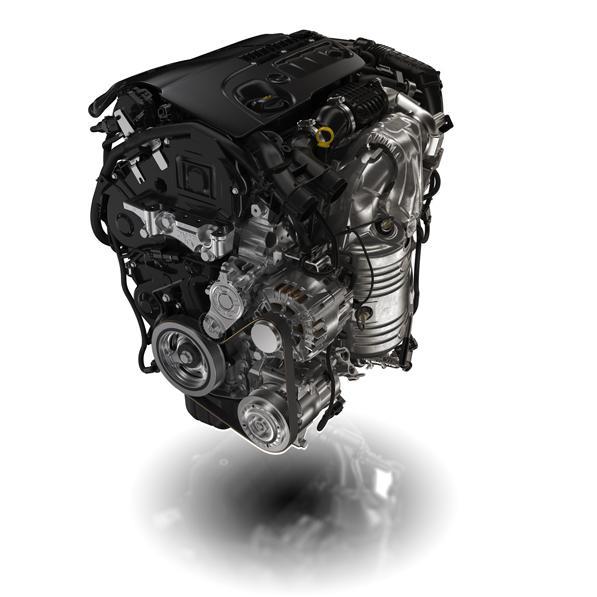 BLUEHDI TECHNOLOGY
Citroën Berlingo is fitted with new BlueHDi engines equipped with the most efficient diesel emission control technology on the market. They meet the new Euro 6 regulations and have the following record consumption and emissions: BlueHDi 75 BVM: 4.2 l/100 km and 110 g of CO2* BlueHDi 100 BVM: 4.2 l/100 km and 110 g of CO2* BlueHDi 100 S&S BVM: 4.2 l/100 km and 108 g of CO2* BlueHDi 100 S&S ETG6: 4.0 l/100 km and 108 g of CO2* BlueHDi 120 S&S BVM6: 4.3 l/100 km and 112 g of CO2* More efficient thanks to the improvement in their internal performance and to the reduction in mechanical losses due to friction, they are also more powerful to provide you with still more comfort. *with the Work Site Pack or Motor Pack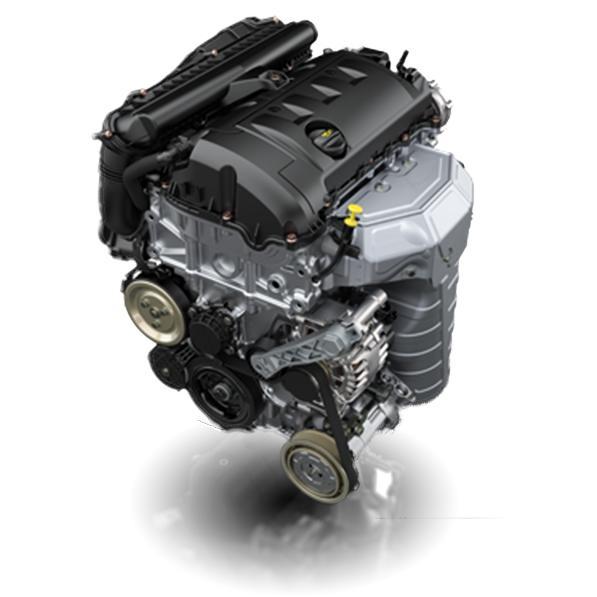 PETROL ENGINES
A high-performance and flexible petrol engine is available for the Citroën Berlingo, the VTi 95 BVM has a consumption of 149g of CO2 (with Work Site Pack option).
TRIMS
BERLINGO L1 PANEL VAN
From £15,390 MRB
Real dimension : 1801 x 4380 mm
Interior height : 1250 mm
Load length : 1800 mm
Load volume : 3.3 m³
Payload between 647 and 854 kg
Turbo Diesel

BERLINGO L2 PANEL VAN / CREW VAN
From £23,150 MRB

Real dimension : 1810 x 4628 mm
Interior height : 1250 mm
Load length : 2050 mm
Load volume : 3.7 m³
Payload : 552 kg
Electric