DESIGN
HEADLIGHTS
CITROËN E-MEHARI has all the Brand's stylistic cues with an expressive gaze featuring dual headlights, a unique design with full and warm patterns, smooth lines and a smiling front end.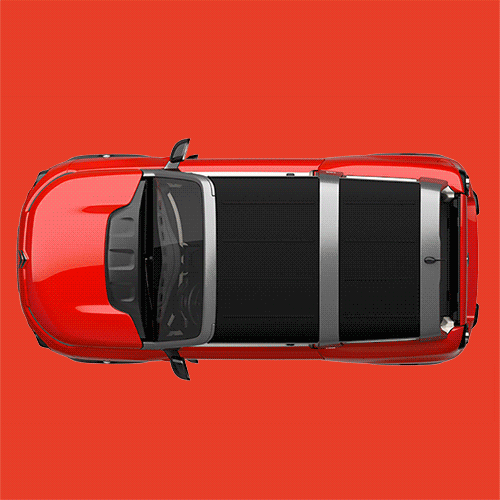 The Colours
In addition to its expressive look and smooth lines, this model comes in four body colours (Day Beige, Clockwork Orange, Big Blue, Yellow Submarine) and two rooftop colours (black and orange)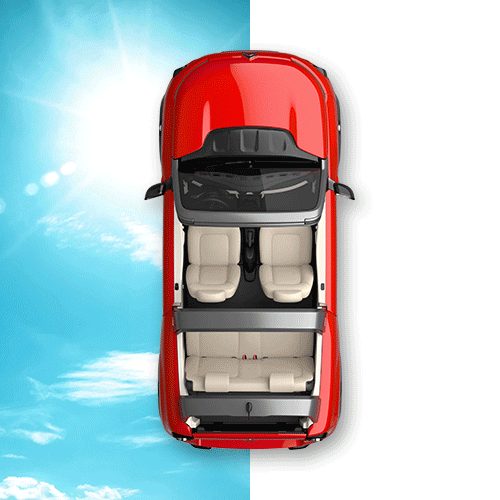 DISCOVER IT!
CITROËN E-MEHARI stays true to its predecessor in terms of both styling and practicality. The interior seats and flooring are waterproof with drainage, meaning they can be washed with a hose. CITROEN E-MEHARI is fitted with a removable canvas roof and four seats (including folding rear bench), making it easy to live with. CITROËN E-MEHARI makes life easier.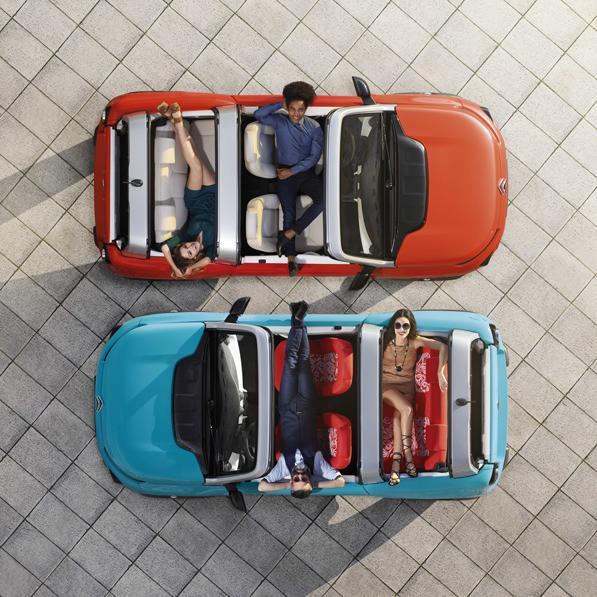 FOUR SEATS
CITROËN E-MEHARI comes fitted with four real seats and a folding rear bench. Hop in with your crew and head for the beach!
EASY TO DRIVE
THERMOFORMED BODYWORK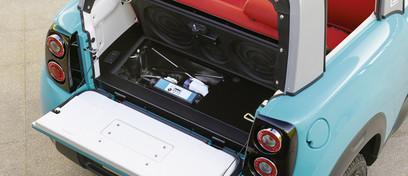 This convertible comes with bodywork of thermoformed plastic: a material that is corrosion-free, with maintenance-free paintwork and the elasticity to withstand minor impacts
ALL-TERRAIN DRIVING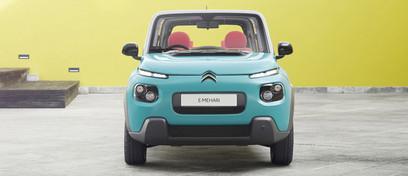 Equipped with a raised chassis for all-terrain driving, CITROËN E-MEHARI nips around everywhere. A few ruts aren't going to keep it from reaching its destination.
INSPIRED BY ITS PREDECESSOR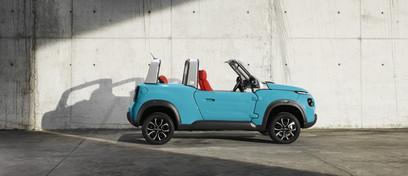 The ribbed door pattern is a wink to CITROËN designers of the original Méhari and its contoured bodywork. CITROËN E-MEHARI is inspired by its predecessor
TECHNOLOGY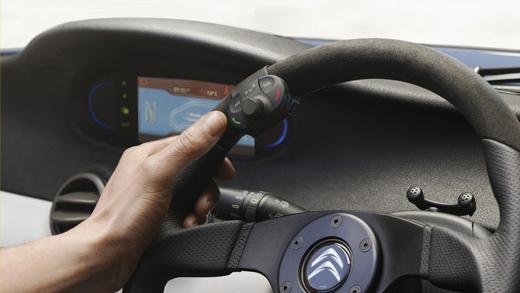 ENJOY THE SUN!
With the E-MEHARI Parrot® audio system you can listen to music via your Bluetooth smartphone anywhere and anytime. With its portable remote control you can even change songs or up the volume without being next to the steering wheel.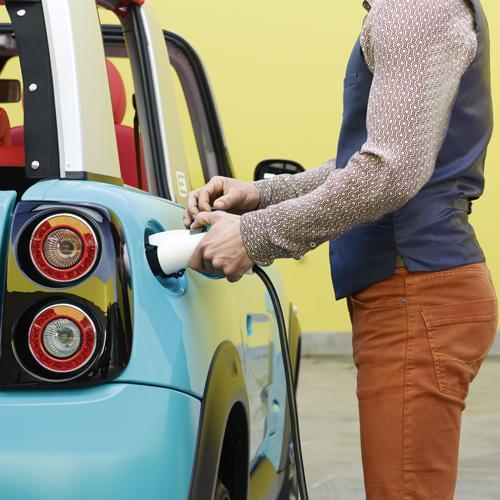 ELECTRICITY IN THE AIR
The LMP® batteries are distinguished by their high-energy density and their safety in use. They are dry batteries (i.e. "fully solid"), which gives the convertible several advantages, such as not being weather-sensitive. Top speed: 68mph
TRIMS
E-MEHARI
Engine powered by 30kWh lithium-polymer battery
Single-speed auto transmission, front-wheel drive
Top speed is 68mph
Range as far as 124 miles