DESIGN
DIMENSIONS 4 LENGTHS, 3 HEIGHTS
Relay is a robust and reliable vehicle with a range of different silhouettes:
4 lengths (L1, L2, L3, L4)
3 wheel-bases (3 m, 3.45 m, 4.04 m)
3 different heights (H1, H2, H3)
In all, Citroën Relay comes in 8 silhouettes ranging from 8 to 17 m3.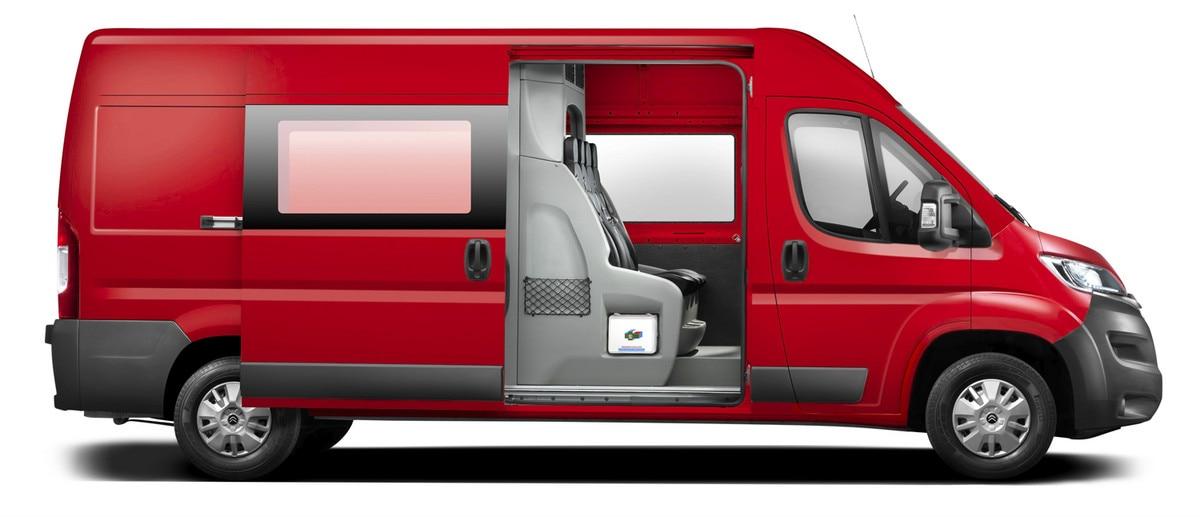 IDEAL PROPORTIONS
• A useful length among the best in its category
• Sliding side doors up to 1.25m
• Rear door opening up to 2.03m in height - the highest in its category
• 270° door opening
FULL HEADLIGHTS WITH DAYTIME LED LIGHTS
With new daytime LED headlights, elegantly fitting into the grille, New Relay differentiates itself with an immediately noticeable change of generation.
COMFORT

The interior
Citroën Relay is also a reference in comfort, favouring the well-being of body and mind for optimal working conditions.
On board, you will find all the options for taking care of your tasks.
PERFORMANCE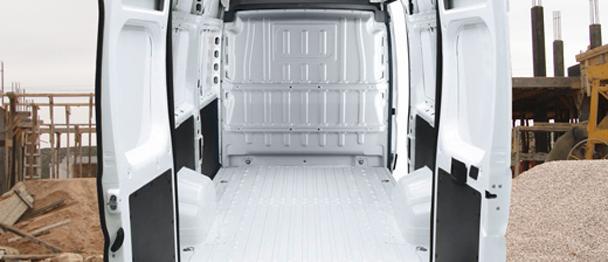 LOADING
Whatever length you choose, Citroën Relay can handle large volumes of materials:
• A best in its class loading width:
• between wheel arches (1,42m)
• between partitions (1.87m)
• 8 to 17 m3 of space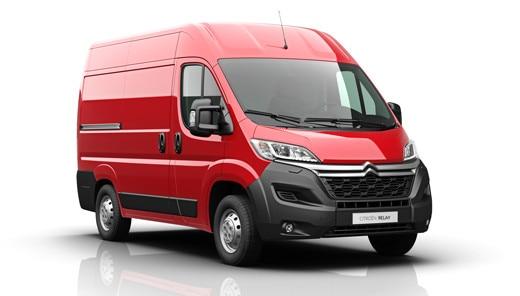 FOR YOUR SAFETY
Citroën Relay provides a lot of technology for your safety:
• Intelligent Traction Control system supplemented by the HDC (Hill Descent Control)
• Hill Start Assist
• Load Adaptive Control feature that increases the effectiveness of ESP.
• Cruise control - speed limiter
• Lane departure warning system (LDWS)
• Tyre deflation warning system,
TECHNOLOGY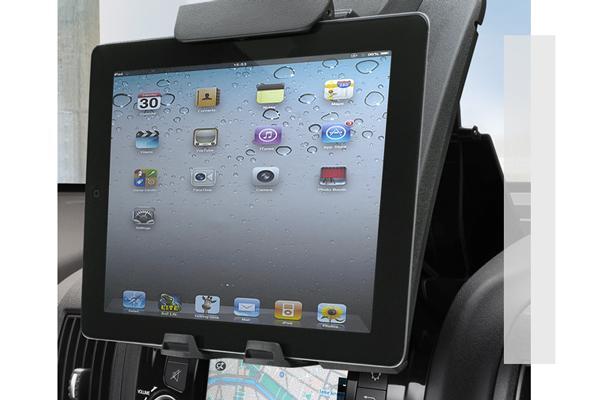 STAY CONNECTED
Citroën Relay favours driving ergonomics and intuitive connectivity providing technology for your professional use.
Always connected, the van offers the Connecting Box (Bluetooth hands-free kit and USB port) right from the most basic audio option.

REVERSING CAMERA
A first in the category, Relay includes a new 5" colour touchscreen that can include navigation and reversing camera functions.
It displays three types of information:
Red: do not approach obstacle in reverse
Orange: obstacle may impede opening of the rear doors. It allows one to precisely calculate how much space is necessary to open the doors.
Green: indicates space available to reverse safely
TRIMS
RELAY 30 L1H1
FROM £22,385 MRB
Real dimension : 2254 x 4963 mm
Interior height : 1662 mm
Load length : 2670 mm
Load volume : 8 m³
Payload : 1155 kg
RELAY 33 L1H1
Real dimension : 2254 x 4963 mm
Interior height : 1662 mm
Load length : 2670 mm
Load volume : 8 m³
Payload between 1440 and 1455 kg
RELAY 33 L2H2
Real dimension : 2522 x 5413 mm
Interior height : 1932 mm
Load length : 3120 mm
Load volume : 11.5 m³
Payload between 1375 and 1390 kg
RELAY 35 L2H1
Real dimension : 2254 x 5413 mm
Interior height : 1662 mm
Load length : 3120 mm
Load volume : 10 m³
Payload : 1600 kg
RELAY 35 L2H2
Real dimension : 2522 x 5413 mm
Interior height : 1932 mm
Load length : 3120 mm
Load volume : 11.5 m³
Payload : 1575 kg
RELAY 33 L3H2
Real dimension : 2522 x 5998 mm
Interior height : 1932 mm
Load length : 3705 mm
Load volume : 13 m³
Payload : 1325 kg
RELAY 35 L3H2
FROM £28,185 MRB
Real dimension : 2522 x 5998 mm
Interior height : 1932 mm
Load length : 3705 mm
Load volume : 13 m³
Payload : 1525 kg
RELAY 35 L3H3
FROM £28,985 MRB
Real dimension : 2760 x 5998 mm
Interior height : 2172 mm
Load length : 3705 mm
Load volume : 15 m³
Payload : 1500 kg
RELAY 35 HEAVY L3H2
FROM £29,285 MRB
Real dimension : 2522 x 5998 mm
Interior height : 1932 mm
Load length : 3705 mm
Load volume : 13 m³
Payload : 1485 kg